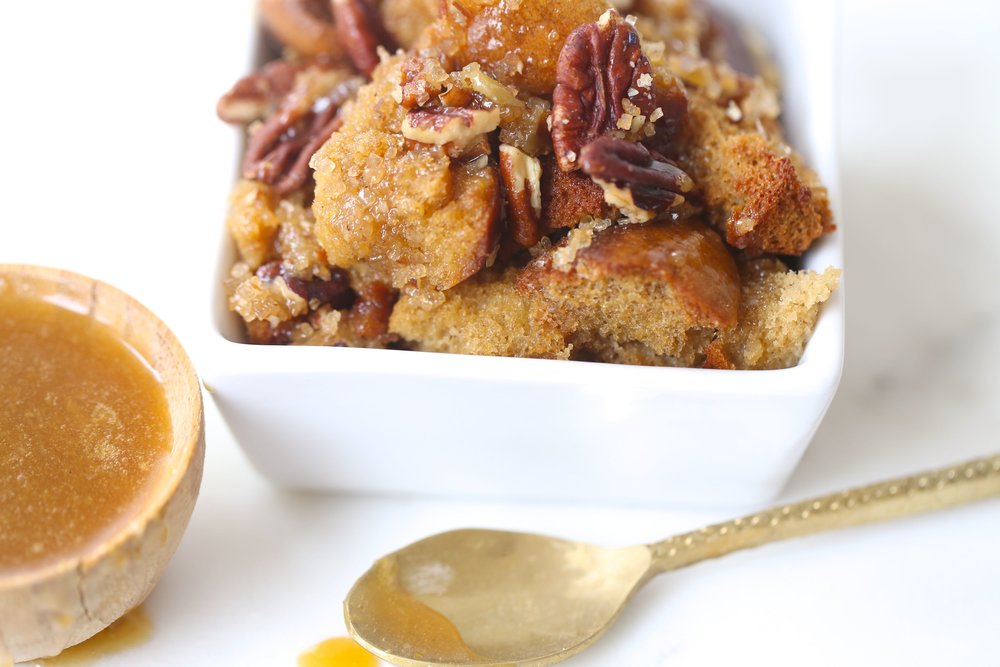 LEGIT BREAD PUDDING
Bread pudding is one holiday tradition that everyone deserves to indulge in - now everyone can! 
This uses a combination of popular bread pudding recipes and can be tweaked to suit your individual tastes! Add raisins, omit nuts, or add brandy to the sauce to make it your own!
2 cups organic sugar, coconut palm sugar, or maple sugar divided
5 large eggs, beaten 
2 cups dairy free milk
4 teaspoons vanilla extract, divided
1 loaf cubed LEGIT BREAD (made from recipe, mix, or ready to eat loaf) -  you can also bake from mix in muffin tins and shorten bake time to 20 minutes
1 cup organic turbinado sugar or coconut sugar (large crystallized sugar works well)
1/2 cup ghee or coconut oil, melted, plus 1/4 cup softened
1 cup chopped pecans
1 egg, beaten, for the sauce
Preheat the oven to 350º. Grease a 13 by 9 by 2-inch pan. 
Mix together 1 cup organic, coconut, or maple sugar, 5 eggs and dairy free milk in a bowl; add 2 teaspoons vanilla. Pour over cubed bread and let sit for 10 minutes. 
In another bowl, mix and crumble together 1 cup turbinado sugar, 1/4 cup softened ghee and pecans. 
Pour bread mixture into prepared pan. Sprinkle pecan and sugar mixture over the top and bake for 35 to 45 minutes, or until set. Remove from oven. 
For the sauce:
Mix together 1 cup granulated sugar, 1/2 cup melted ghee, 1 egg, and 2 teaspoons vanilla in a saucepan over medium heat. Stir together until the sugar is melted. Drizzle to taste over each individual serving of bread pudding. Serve warm or cold.
---